PUBLIC NOTICE
NOTICE OF CALL FOR ELECTION
AND NOMINATIONS
COLORADO MOUNTAIN COLLEGE
NOTICE IS HEREBY GIVEN BY COLORADO MOUNTAIN COLLEGE, a local college district, that the regular biennial election of members of the Board of Trustees of the local college district will be held on November 5, 2019.
Members of the Board of Trustees shall be elected for each of the following trustee districts: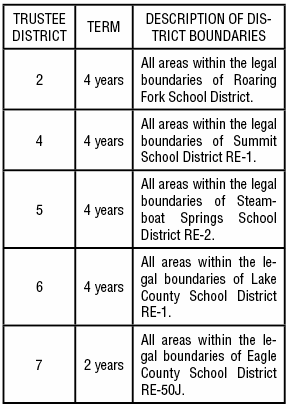 Any person who desires to be a candidate for the Colorado Mountain College local college district and who is an eligible elector in one of the above trustee districts shall file a petition for nomination pursuant to C.R.S. 23-71-114; C.R.S. 1-4-803; and part 9 of article 4 of title 1, C.R.S. The candidate must reside within the trustee district area for which they seek election.
Petitions for nomination may be obtained beginning August 7, 2019, from Jamie Kruis, Election Coordinator, Colorado Mountain College, 802 Grand Avenue, Glenwood Springs, Colorado, 81601. Phone number: 970-947-8325.
The deadline for the filing of nomination petitions is August 30, 2019, by 5:00 p.m. Petitions with at least 50 qualifying signatures must be received by this time by Colorado Mountain College at the above address. Any questions should be directed to Jamie Kruis or Debbie Novak, Executive Assistant to the CMC Board of Trustees, at the above address or at 970-947-8365.
By Pat Chlouber
Secretary, Board of Trustees
Colorado Mountain College
Published in the Herald Democrat Aug. 1, 8, 15 and 22, 2019.